Has your doctor recently recommended you to watch your blood pressure? Maybe you just want to monitor your blood pressure on your own initiative. In either case monitoring your blood pressure and logging your results consistently enough to be useful can be a challenge, especially with our busy lives. That's why we're writing this quick guide, to show you how to measure blood pressure the easy way!
The good news is it has become very easy to measure, monitor, and control blood pressure if you have the right device. The iHealth View wireless wrist blood pressure monitor has made staying on top of your blood pressure and sharing your blood pressure log information with your doctors easier than ever before.
Best Wrist Blood Pressure Monitor – iHealth View
The iHealth View is a top of the line wrist blood pressure monitor. Some of the amazing features it has include an attached intuitive on screen display, a free mobile up that wirelessly connects to the device, and an alert to notify you when the monitor is at the best elevation for a reading. You can check out the iHealth View in the link below.
The iHealth View is also clinically tested and FDA approved. This means it's ensured for quality and accurate measurements. This is important to have, especially if you are reporting your blood pressure readings to your doctor, who needs to know how accurate those readings are before making decisions based off of them. While being a little on the pricier end, costing $99.99, the iHealth View is really the best wrist blood pressure monitor you can get due to it's accuracy, advanced features, and mobile app connectivity.
Automatic Blood Pressure Monitoring Log Built In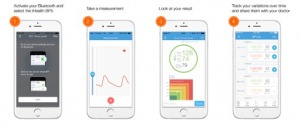 Perhaps the most attractive and innovative feature of the iHealth View is the automatic blood pressure monitoring log capability. All iHealth products come with easy connection and integration to their free MyVitals app, available for iOS and Android, which helps you easily create and monitor your own blood pressure log chart on a smartphone or computer. This blood pressure log chart mobile app can be automatically updated when you take a reading, or readings can be stored and synced later if being used offline.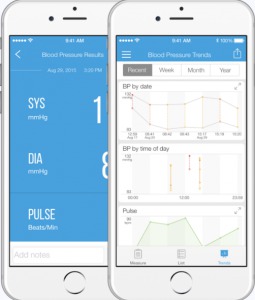 For anybody looking to keep a blood pressure monitoring log, there is no better and easier way to do it than using the iHealth View connected to the accompanying app. Not online does it log your recorded blood pressure but it also creates easy to read and maneuver charts to help monitor your blood pressure over time visually. This can save loads of time and hassle compared to manually logging your data. It also makes it easier for you, your nurses, and your doctors to quickly and effectively monitor your blood pressure log chart on a phone anywhere, anytime.
 Shareable and Printable Blood Pressure Log Sheet
The iHealth View and the MyVitals app together create a blood pressure log that can be viewed remotely on other devices. All you need to do to share your log with somebody is have them download the app and give them account viewing access. That way the intuitive, aesthetically appealing, and visually useful blood pressure log chart can be seen by your family and healthcare providers.
Your nurse or doctor doesn't have a smartphone or use it at work and can't use the app? No problem, you can exportyour blood pressure log sheet into a pdf or spreadsheet and send them to your provider any way you like. This can also be printed kept for records or given to your provider by hand.
Many people that have gotten a blood pressure monitor before have probably heard of and know the Omron Wrist Blood Pressure Monitor and feel like it is the best wrist blood pressure monitor because of Omron's committment to excellence of cutting edge diagnostic technology for many years. While Omron makes great blood pressure monitors and it's wrist blood pressure monitor is a great product which can also connect to a mobile app nowadays, I would still give a decent edge to the iHealth products.
For one, the iHealth products were made for the digital age and have much more interactive and intuitive design features in their mobile app. This might not seem as important but you can definitely notice the difference between the iHealth graphs and Omron graphs. You want to make it as easy and convenient as possible for your doctors to understand your blood pressure monitoring log and chart as well as yourself.
The reviews of both products are generally positive on their respective Amazon and Consumer Affairs reviews. Pricewise the Omron and iHealth products are comparably the same. While Omron has a cheaper product than the iHealth View, iHealth also has a cheaper wrist blood pressure monitor model the iHealth Sense which you can see below.


Conclusion
Overall, the iHealth View is all around the best wrist blood pressure monitor. If you want to know how to measure blood pressure the easy way, I would point you to the iHealth View which basically does everything for you. It's a top of the line product with great reviews and FDA approval. If your looking for something with similar features that is more affordable their is a cheaper version sold by iHealth called the iHealth Sense. There are also similar products available such as an Omron blood pressure monitors with more experience than iHealth but not as cutting edge. Both Omron and iHealth now offer a digital based blood pressure monitoring log as well as a printable blood pressure log sheet.
iHealth View Wireless Blood Pressure Monitor and Log/Chart App
$99.00
Pros
Automatic Blood Pressure Data Logger - Mobile and Cloud Enabled
Easy to Share With Blood Pressure Data With Doctor
Safety - FDA Approved
Secure Data - HIPAA Assured
Clinically Tested
Cons
Some Complaints About Accuracy
Requires iPhone For BP Logging
Bluetooth Can Cause Issues
Could Use A Bigger Battery