If you've ever needed a medical record of yours, you know how difficult it could be just accessing your own medical records. Where can I get my medical records is a common question that often creates a lot of hassle; which is why we made a guide for finding your medical records and monitoring them. It is becoming increasingly easier to find your medical records online, with the power of the internet and information technology.
Here I will discuss some steps you could take to help you find old medical records, as well as some easy ways to stay on top of your medical records. Having access to your medical records, especially online, will make using digital health solutions like having an online doctor consult which we wrote about here a lot more useful for patient and doctor. It can also help in emergency situations. For example the MedManage medication management app (shown below) lets you store a comprehensive list of your active and past medications right in your pocket, which can be critical for an emergency responder to be aware of immediately.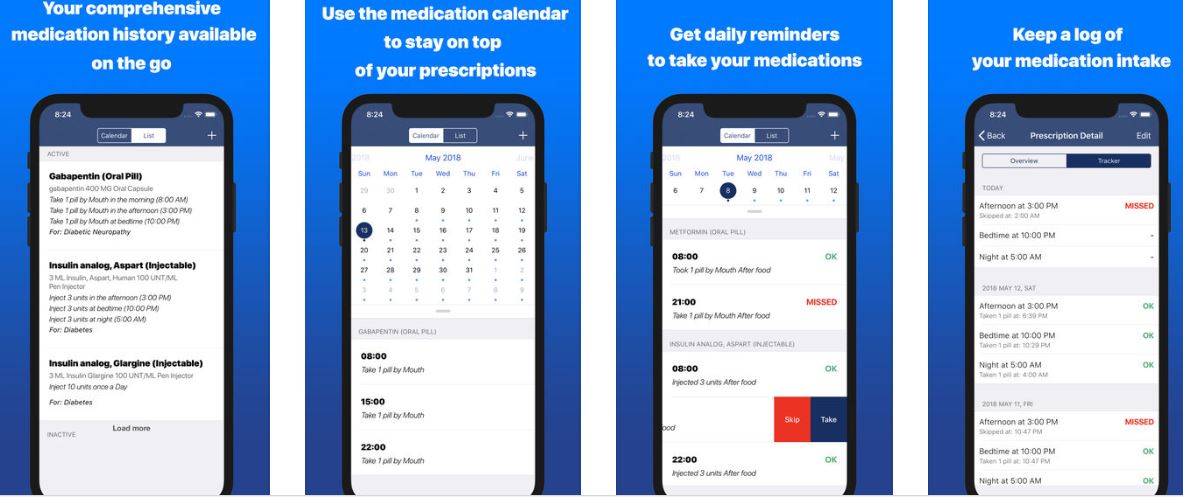 By having access to your medical records, a lot of time and energy can be saved in the future, so it is a good idea to start now. Currently in the United States over 90% of doctors and hospitals use electronic medical records. The advantages electronic medical records provide include allowing them to be shared easily, with the patient or other healthcare providers. While it isn't technically difficult in today's world to access your personal electronic medical records and history, if you are not informed on how to set yourself up for success it can seem a lot harder than it is. If you've ever need to ask "can I get a copy of my medical records", it will be a lot easier to answer if you planned ahead. With a little preparation you can easily stay organized, informed, and engaged with your health.
Find my medical records online
My medical records online
Many of us don't realize but most of our medical records already exist online, we just aren't good at accessing them yet. This is partly the fault of healthcare providers and electronic health record (EHR) systems for not really putting in much effort to make sure we know how to access them. It is hard to blame doctors for this since they are very busy people and the EHR companies get paid by the doctors (not us) so it makes sense that patients and consumers aren't their first priority. While the healthcare providers and EHR systems could make it easier for patients to access their records, it is also on the patients to make an active effort keeping themselves in the loop.
Patient Portal
Patient portals are secure online websites that give patients convenient internet access to their medical records 24/7. Online patient portal medical records are very important in accessing your own medical records. Whether a large hospital or an independent doctor's office, each healthcare provider often has their own patient portal for the data and records created at their facility. The real benefits electronic medical records provide in accessing our medical history are exemplified by the patient portal. Patient portals are often included in the EHR systems that doctors and hospitals use and are a major key in accessing your own medical records.
HIPAA, Confidentiality, and Consent
HIPAA is the Health Insurance Portability and Accountability Act of 1996. This was a law passed to ensure health institutions all over the country protect their patients information with privacy and security. It sets up guidelines and procedures for handling medical records, and making sure personal health information is shared properly. HIPAA requires healthcare providers to receive your consent before releasing health information, as well as to verify your identity.
If I want to find my medical records online, I NEED to set up my patient portals with my providers. This is because your health and medical data is confidential due to HIPAA law regulating what your doctor can and can't do with your personal health information. By creating a patient portal you allow doctors to verify your identity and give you secure access to those records. It makes sense that you can't just Google 'find my medical records online' and they show up (you wouldn't want them to). That is why it is important to have a patient portal setup so you know where to look when you want to get medical records online.
Advantages of Electronic Health Records and Patient Portals
Electronic health records and patient portals exist to reduce the paperwork and time doctors have to spend when dealing with patient medical records including requests for copies. While not all doctors are sold on the need for electronic health records, patient portals are shown to increase patient satisfaction of healthcare providers who actively use them.
Most healthcare providers have patient portal tools available to them through their electronic health record systems. Setting up a portal for each patient can be as big hassle as dealing with paper records, but the setup usually needs to be only done once. The benefits of patient portals to the doctor come from the patients who are going to want to access their records more than once or twice, or hold unto the copies of their history themselves.
Electronic health records allow patient information to stay organized in one location digitally and using patient portals to be easily accessed from anywhere. Even if you don't think you will ever want to access your records more than once or twice, it is still a great idea to request your doctor sets one up for you. It is impossible to predict when you're going to need access to your medical records and how much hassle you can avoid, so I would recommend everybody request a patient portal login from at least their primary care doctor and hospital.
Medication History and Lab Tests
Now that you know where to find medical records online, your patient portal, we will look at how to lookup your medication history and lab results. Doctor and hospital EHR systems do a good job for the most part of including your prescriptions, as well as lab report data in patient portals. So, if you are monitoring your doctor's office and hospital portals, you already likely have access to this information accessible there. This is not guaranteed though and it might be a good idea to take some extra steps to make sure you have these records.
Prescriptions
Since electronic health records made it easier to transfer and share medical records between providers the basic concept of electronic records spread from hospitals and doctor's offices to pharmacies.The process for checking your prescription history is very similar to logging into an EHR patient portal. While this trick won't work for every pharmacy, it does work for the major pharmacies such as Walmart, CVS, Walgreens, and Rite-Aid.
All you have to do is go on the website of your pharmacy, create a login, and verify some personal information.
The portals of these pharmacies often work retroactively. For instance, my pharmacy, CVS, lets me see my medication history going back 24 months from when I made my account. Despite this, I would still make an online account proactively to ensure I have the right access when I need it. If you use a small local pharmacy you might be out of luck but it would still be worth asking if they have a patient portal feature available, since electronic health records make it possible for even small pharmacies to be connected.
You can also use an app such as the medication reminder alert app MedManage to connect to some major pharmacy systems and pull your data from them. This can be especially useful if you use more than one pharmacy. Besides storing your medication history and providing medication reminders MedManage also comes with a medication history log that can be remotely monitored by family members and caregivers; and connects to the Medidex FDA drug label warnings and side effects reference database.
Lab Results
To check your lab results online can also be easy. Setting up an online account beforehand will go a long way to having access to your lab results online when you need them. By far the biggest lab test providers in the United States are Labcorp and Quest Diagnostics. If you are getting a lab test done, it will probably be at one of these two places. Luckily (just like your doctor's office, hospital, and pharmacy) they allow patients to create an account and verify their identity online on their websites, which will allow you to check your lab results online without going in to see your doctor. Using online lab results can save you and your doctor a lot of time and inconvenience.
Where can I get my medical records?
Step by step instructions
1. Ask your primary care doctor or general practitioner office to set you up a patient portal. This will be a secure website you can access with login credentials the office provides for you.
a.  If you regularly see more than one doctor make sure to get a patient portal setup with each doctor (sometimes it can be the same login but sometimes it can't).
2. If you've been to a hospital contact them and have a patient portal setup there as well using your identifiable personal information. Often, hospital visits generate lots of important medical history and it would be a good idea to have access to those records.
3. Make an online account at your respective pharmacies website (CVS, Walgreens, Walmart, Rite-Aid, etc.) and verify your personal information.
4. Make an online account with the two major medical testing laboratories Labcorp and Quest Diagnostics.
5. Make sure you hold unto or remember your login credentials or you won't be able to access your records on demand!
That's it, with a couple online accounts' setup beforehand, you find your medical records online very easily whenever you need to.
Thanks for reading and feel free to contact me at sg@themedidex.com if you have any questions.